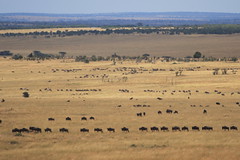 When we talk about tourism in Africa besides the gorilla trekking in Uganda Rwanda and Congo, wildebeest immigration is the second tourist activity that adds a lot of the income to the country where this immigration talk place that's Kenya and Tanzania. Animals cross from one country to another one in search of a new pasture and later return to the habit when the place becomes dry
The annual wildebeest migration happens from July – to September between Tanzania's Serengeti National Park and Kenya's Masai Mara National Reserve. Thousands of wildebeest and zebras make the seasonal migration in search of food during this time, and predators such as lions take advantage of their movements.
The wildebeest migration to the western part of the Serengeti National Park takes place in June. From July-August, the wildebeest cross the Grumeti River in Tanzania on their way to Kenya. From December-January they migrate back from Kenya's Masai Mara to the Serengeti in Tanzania.
on your itinerary visiting Tanzania you shouldn't miss the wild best migration it takes place between two parks one in Kenya Masai Mara and Serengeti in Tanzania